History
The Rug Hook Project was created in 1993 by a group of expatriates living in San Miguel de Allende Mexico. Their vision was to enhance the lives of rural women in two ways:
First: Find a way for women to earn money- The Rug Hook Project
Second: provide scholarships for girls- Mujeres en Cambio:   http://mujeresencambio.org
One master rug hooker MK Maudsley involved with Mujeres was instrumental in helping them perfect their skills. This is a quote from MK Maudsley" I didn't actually start the rancheritas down the rug-hooking path. Other women pitched in to teach them when the expressed the desire to do something different from the embroidery that is the typical handiwork of the area. I was asked to go to SMA to help since I speak Spanish and am a rug hooker. I accepted her invitation right away and started canvassing other hookers in various groups in Nova Scotia for donation, primarily of wool, but also of cash so that I could buy backing, etc for the amigas. I continued to go each year for three years and was amazed at what the rancheritas were beginning to produce.
Charlotte Bell became involved in 1999 when she visited the village to take photographs for the website she was constructing for Mujeres en Cambio. She became enchanted with the women and saw they had basically no marketing for their rugs. Charlotte has been an independent artist since 1973 so she began bringing the rugs back to the USA for shows and exhibits. She does this as a service project.
This article in Rug Hooking Magazine put the group "on the map"
2004 rug hook mag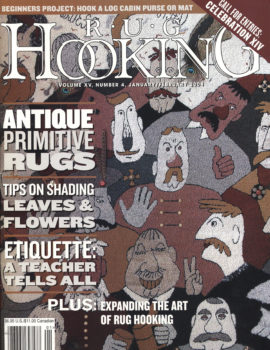 Judy Christoffersen, a retired art teacher, began working with the group in 2013. She has be instrumental in teaching them art techniques to improve the quality of the rugs.
Becky Rhode also become involved with the Rancho Tour. As a retired home economics teacher she taught the women how to sanitize food and food preparation implements. She also brought them donated sewing machines and taught them how to sew.
Lisa Morphew, Kate Kiely and Candy Hearne send the group large quantities of wool donations. Without the donations of wool the group would not be able to produce the quality of rugs. The both also sell the rugs in TX and NC at craft events.