THE RUG HOOK PROJECT
"Las Rancheritas"
This project is making a huge difference in the lives of these women and their families.
However during the pandemic they have no income from rug sales or rancho tours. We will soon have a gofundme for those of you that would like to help financially. Prices on basic needs have more than doubled because of the pandemic. The impact is staggering. Please consider a donation.
100% goes directly to the women.
Home of  "THE RANCHO TOUR" a hands on village experience.
For those driving here is the Map in pdf.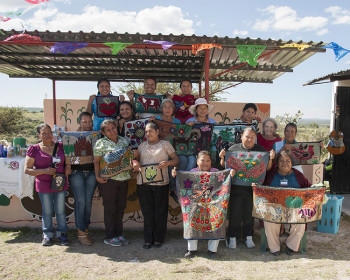 In the small village of Agustin Gonzales located in the central Mexican highlands near San Miguel de Allende, 15 women spend what little free time they have hooking rugs. You will find them working late at night by kitchen tables after children are asleep or perhaps you will see them sitting under a tree in the hillside tending the cows and working on their rugs. Their subject matter is the life around them, mountains, cactus, cows, horses, burros, flowers, a small house, a church, ducks, rabbits, chickens, roosters or fish.
The people of the area are subsistence farmers who grow corn, beans and squash. Each art piece is entirely unique as is the skill of rug hooking in Mexico.
The project was begun in 1996 by Mujeres en Cambio. The primary purpose of Mujeres now is fundraising to provide scholarships for girls living in rural communities. Many of the women's daughters have been recipients of these scholarships.
The proceeds from selling these art pieces help with paying for additional food,
children's schooling, doctor visits and other family needs.
Many of the women are the sole support of their families. 
This Popcast from 2018 describes the origins of the group and some of the hurdles we have crossed. https://unbound.online/006-photographer-charlotte-bell-bridging-cultures-with-creativity/
VIDEO INTRODUCTION TO LAS RANCHERITAS
Learn more about the Rancheritas in the book: Rich Roots
PURCHASE HERE. RICH ROOTS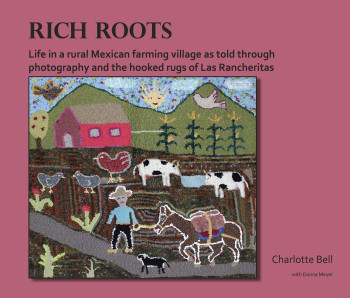 UA-0000000-0