A fun way to make a difference.   All proceeds benefit Las Rancheritas.
The Rancho Tour is an opportunity to meet the weavers of Las Rancheritas and experience life in a rural village.  The 19 women are the descendants of the Otomi pyramid builders.  This is an intimate hands-on experience where you will be invited into the homes of the villagers to experience the following: tortillas made by hand from corn grown by their families, cooked on a wood fired comal and decorated using an ancient process. This is followed by a delicious traditional lunch. Medicinal herbs and other traditions that have been used by these indigenous people for millennia, A short lesson in the ancient language of the Otomi taught by an elder, Rug hooking demo and shopping in Las Rancheritas village store.
The tour is an excellent learning experience for children 8 and and up and great opportunity for photographers. We can also arrange for a burrow ride.
Tours are from 12:30 – 5:00 or by appointment. The cost is  $40 US or 750 pesos and includes transportation, lunch and the tour. Tours leave from in front of St. Pauls Episcopal church on Cardo 6. You must have a reservation. Contact: info@rughookproject.com.
  Bring extra cash since There are also wonderful crafts to purchase at great prices.
ESPAÑOL
Una forma divertida de marcar la diferencia.
Todos los ingresos benefician a Las Rancheritas.
El Rancho Tour es una oportunidad para conocer a los tejedores de Las Rancheritas y experimentar la vida en un pueblo rural. Las 18 mujeres son descendientes de los constructores de pirámides otomí. Esta es una experiencia práctica íntima en la que lo invitarán a las casas de los aldeanos para experimentar lo siguiente: tortillas hechas a mano con maíz cultivado por sus familias, cocinadas en un comal a la leña y decoradas con un proceso antiguo. Esto es seguido por un delicioso almuerzo tradicional. Hierbas medicinales y otras tradiciones que han sido utilizadas por estos indígenas durante milenios, Una breve lección en el idioma antiguo de los otomí impartida por un anciano, Demostración de enganche de tapetes y compras en la tienda del pueblo Las Rancheritas.
El tour es una excelente experiencia de aprendizaje para niños de 8 años en adelante y una gran oportunidad para los fotógrafos. También podemos organizar un paseo en burro.
Los tours son con cita previa y se realizan de 12:30 a 5:00. El costo es de $40 USD o 750 pesos e incluye transporte, almuerzo y el recorrido. Los recorridos salen frente a la iglesia episcopal de St. Pauls en Cardo 6. Debe tener una reserva.
Contacto: info@rughookproject.com
Traiga dinero extra ya que también hay maravillosas artesanías para comprar a excelentes precios.
The following youtube will give you a sample.
Learn more about Las Rancheritas. Go to amazon and purchase the book,
Rich Roots, which is about life in rural Mexico featuring Las Rancheritas.
Click here for link to purchase book: Rich Roots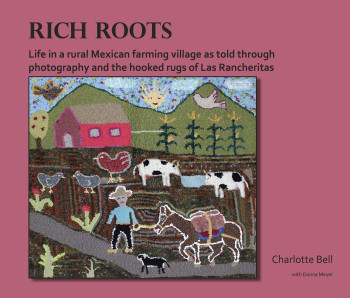 REVIEWS
"Great afternoon visiting pueblo, Agustin Gonzales, and learning about women and rug hooking."
We are a group who have been visiting San Miguel for the month. This was a fantastic afternoon, a great tour and we all enjoyed it. We had a tortilla-making demonstration , watched them make fresh salsa, agua fresca, and then were fortunate enough to sit down and feast on tamales, chile rellenos, rice, beans, avocado, and later dessert with sweet potato. We visited their local tienda where the women sell their rug hooked works. It was a beautiful village to visit and speak with the people, listen to the Otomi language, and support the women in this village. This was a terrific tour and we're grateful to Charlotte for introducing us to this special tour so we could learn more about the people around San Miguel.
https://www.tripadvisor.com/ShowUserReviews-g151932-d8627025-r464285364-The_Rancho_Tour-San_Miguel_de_Allende_Central_Mexico_and_Gulf_Coast.html#
"A view into a local rural community"
We went by van to the village of Agustin Gonzales, about an hour out of San Miguel. We visited a series of homes where we ate a meal prepared entirely from scratch, including soaking the corn kernels, grinding them on a metate, roasting vegetables and tortillas, making salsa and eating homemade cheese. Each house offered something different. Another house demonstrated making agua fruta and a desert made from squash. The last house was an Otomi woman who still speaks her language and taught us some words. The final stop is to their small tienda where they sell their hooked rug projects. Our guide, Donna, was wonderful too. Great tour!
https://www.tripadvisor.com/ShowUserReviews-g151932-d8627025-r464285364-The_Rancho_Tour-San_Miguel_de_Allende_Central_Mexico_and_Gulf_Coast.html#
"A lovely afternoon with Mexican rural families"
An excellent opportunity to mingle with local families in the countryside, learn about their arts and crafts, like rug hooking, and have a delicious lunch from local foods with demonstrations of how it was all prepared.
https://www.tripadvisor.com/ShowUserReviews-g151932-d8627025-r464285364-The_Rancho_Tour-San_Miguel_de_Allende_Central_Mexico_and_Gulf_Coast.html#
"Out in the Mexican countryside"
The Rancho Tour took us to the small village of Agustin Gonzales, about 20 minutes outside of San Miguel de Allende. It includes a delicious luncheon prepared by the women of the village so it is all homemade and, most likely, locally grown. We were shown how to grind corn on a metate (not as easy as it looks) to make fresh, really fresh, tortillas. They also demonstrated how to make fresh salsa by roasting peppers, tomatoes and spices on a comal. Lunch was served in the courtyard of a private house and included chile rellano, arroz, fresh guacamole, tamales, fresh queso de vaca, salsa and papas fritas. We then enjoyed a sweet potato dessert and aqua fresca de mango, while a group of children sang the Mexican national anthem in the local language Otomi. We visited a stone carver's home and Las Rancheritas, a rug-hooker cooperative and faced the difficult choice of what to buy to bring home. And then the piece de résistance, a language lesson in Otomi from the charming Dona Marie. It was a delightful half day excursion that I would do again in a heartbeat!