The Rancho Tour is an opportunity to meet the weavers of Las Rancheritas by visiting their village. You will have a personal experience into day to day life in a rural village.
Included is:
transportation, a fabulous home made traditional Mexican luncheon, a visit to their store, a burro ride if you'd like, demonstrations in rug hooking, traditional cooking techniques, stone carving and and introduction to the ancient language Otomi with a village elder.
This is a great tour for children 8 and over and photographers.
Remember to bring extra cash. There are wonderful crafts to purchase at great prices.
Our general tour are Fridays 12:30 – 5:00. Reservations and tickets are required for the tour. If you have a group of 6 or more you can arrange for a private tour any day or time.
info@rughookproject.com        512 447 2150
Cost is $650 pesos and includes transportation, lunch and tour. If you have your own transport the tour is 500 pesos.
Tours leave from in front of St. Pauls Episcopal church on Cardo 3.
All proceeds benefit Las Rancheritas.
The following youtube will give you a sample.
Learn more about Las Rancheritas. Go to amazon and purchase the book,
Rich Roots, which is about life in rural Mexico featuring Las Rancheritas.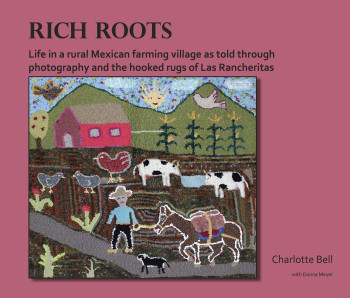 Click here for link to purchase book: Rich Roots
The village is 20 minutes from San Miguel in the village of Agustin Gonzales.
Click here for a Map to store