THE RUG HOOK PROJECT
"Las Rancheritas"
This project is making a huge difference in the lives of these women and their families.
However during the pandemic they have no income from rug sales or rancho tours.  Prices on basic needs have more than doubled because of the pandemic. The impact is staggering. Please consider a donation.  100% goes directly to the women.
Home of  "THE RANCHO TOUR" a hands on village experience.
Este proyecto está marcando una gran diferencia en la vida de estas mujeres y sus familias.
Sin embargo, durante la pandemia no tienen ingresos por la venta de alfombras o recorridos por ranchos. Los precios de las necesidades básicas se han más que duplicado debido a la pandemia. El impacto es asombroso.
Por favor considere una donación. El 100% va directamente a las mujeres.
Hogar de "THE RANCHO TOUR", una experiencia práctica en el pueblo.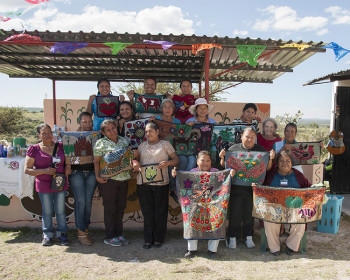 In the small village of Agustin Gonzales located in the central Mexican highlands near San Miguel de Allende, 19 women spend what little free time they have hooking rugs. You will find them working late at night by kitchen tables after children are asleep or perhaps you will see them sitting under a tree in the hillside tending the cows and working on their rugs. Their subject matter is the life around them, mountains, cactus, cows, horses, burros, flowers, a small house, a church, ducks, rabbits, chickens, roosters or fish.
The people of the area are subsistence farmers who grow corn, beans and squash. Each art piece is entirely unique as is the skill of rug hooking in Mexico.
The project was begun in 1996 by Mujeres en Cambio. The primary purpose of Mujeres now is fundraising to provide scholarships for girls living in rural communities. Many of the women's daughters have been recipients of these scholarships.
The proceeds from selling these art pieces help with paying for additional food,
children's schooling, doctor visits and other family needs.
Many of the women are the sole support of their families. 
This Popcast from 2018 describes the origins of the group and some of the hurdles we have crossed. https://unbound.online/006-photographer-charlotte-bell-bridging-cultures-with-creativity/
Here is a short video about the distribution of wool donated to the group from Rug Hookers in the USA.
Español
En el pequeño pueblo de Agustín Gonzales ubicado en el altiplano central de México cerca de San Miguel de Allende, 15 mujeres pasan el poco tiempo libre que tienen enganchando alfombras. Los encontrará trabajando hasta altas horas de la noche junto a las mesas de la cocina después de que los niños se hayan dormido o tal vez los verá sentados bajo un árbol en la ladera cuidando las vacas y trabajando en sus alfombras. Su tema es la vida que les rodea, montañas, cactus, vacas, caballos, burros, flores, una casita, una iglesia, patos, conejos, gallinas, gallos o peces.
Los habitantes de la zona son agricultores de subsistencia que cultivan maíz, frijol y calabaza. Cada obra de arte es completamente única, al igual que la habilidad de colgar alfombras en México.
El proyecto fue iniciado en 1996 por Mujeres en Cambio cuyo objetivo principal es recodar fondos para otorgar becas a niñas que viven en comunidades rurales. Muchas de las hijas de las mujeres han sido beneficiarias de estas becas.
Las ganancias de la venta de estas obras de arte ayudan a pagar alimentos adicionales,
escolarización de los niños, visitas al médico y otras necesidades familiares.
Muchas de las mujeres son el único sostén de sus familias.
VIDEO INTRODUCTION TO LAS RANCHERITAS
Learn more about the Rancheritas in the book: Rich Roots
PURCHASE HERE. RICH ROOTS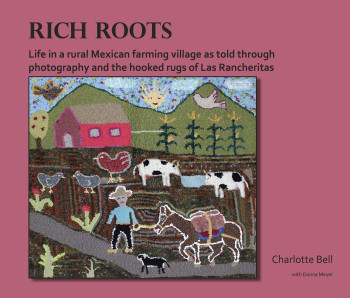 A-0000000-0